Verantwortung für Mensch und Umwelt
Verantwortung zu übernehmen ist für uns keine Pflicht, sondern unsere Haltung. Darum setzt sich die Hoffmann Group schon seit Jahrzehnten für die Belange von Mensch und Umwelt ein. Dieses Engagement ist fester Bestandteil der Kultur und des Handelns unseres Unternehmens.
Die Hoffmann Group Foundation
Wir unterstützen Kinder und Jugendliche, die durch ein schwieriges soziales Umfeld, schwerste Erkrankungen, sowie geistige oder körperliche Behinderung benachteiligt sind. Ziel ist es, sie langfristig für ein eigenverantwortliches und zufriedenes Leben stark zu machen.
Zu diesem Zweck gibt es die Hoffmann Group Foundation. Wir fördern das ORANGE HOUSE in Peißenberg. Im ORANGE HOUSE werden Angebote für Kinder und Jugendliche aus sehr schwierigen familiären Verhältnissen entwickelt und umgesetzt. Das Konzept ruht auf den drei Säulen: gemeinsame Aktivitäten, Therapie und Professionalisierung. Im Vordergrund stehen erlebnisorientierte Kurse mit dem Ziel, Vertrauen in die eigenen Kräfte und Fähigkeiten aufzubauen. Eine Werkstatt, die Reithalle und weitere großzügige Therapieräume bieten Platz für heilpädagogisches Reiten, Erlebnispädagogik, Kunst-, Musik- und Tanztherapie und vieles mehr.
Angespornt durch den Erfolg dieses Kreativ- und Therapiezentrums planen wir aktuell den Bau des zweiten ORANGE HOUSE in Bremen. Darüber hinaus unterstützen wir unter anderem auch das Projekt LEBENSRÄUME – eine Tagesstätte für Kinder und ihre psychisch kranken Eltern in München-Pasing – sowie die "Grundmühle" bei Hannoversch Münden, das "Spatzennest" in Essen, das "Rupert-Mayer-Haus" in Göppingen, das "Martin-Luther-Haus" in Nürnberg und die Grundschule am Ravensburger Ring in München-Aubing.
Sie möchten als Förderer mithelfen? Wir würden uns über Ihr Engagement freuen.
Umwelt
Am umweltfreundlichsten sind Materialien, die man nicht verbraucht. Darum nutzen wir Ressourcen möglichst effizient und schonend und stellen höchste Ansprüche an unsere Qualität. Wir wissen, dass der wirtschaftliche Erfolg unseres Unternehmens auf Dauer nur gesichert ist, wenn wir auch ökologischen Bedürfnissen konsequent gerecht werden.
Die Übereinstimmung mit den Normen DIN EN ISO 14001 lassen wir regelmäßig durch unabhängige Auditoren überprüfen. Zu unserem Engagement zählen Umwelt- und sozialverträgliche Produktionsbedingungen weltweit, optimierte Verpackungs-, Logistik- und Transportkonzepte, der Einsatz von modernsten und umweltfreundlichen Energiekonzepten in Betriebsgebäuden, der verantwortungsvolle Umgang mit Gefahrstoffen sowie die Langlebigkeit durch höchste Produktqualität.
Hoffmann setzt an den Standorten in München, Nürnberg, Bremen und Göppingen M-Ökostrom ein. Der Münchner Ökostrom wird zu 100% aus Wasserkraft erzeugt, was vom TÜV Süd geprüft und bestätigt wird.

Seit 01.01.2012 versendet die Hoffmann Group sämtliche Rechnungen mit der "GoGreen" - Aktion der Deutschen Post. GoGreen ist ein Projekt, das die CO2 -Emissionen, die bei dem Versand von Briefen entstehen, ausgleichen soll. Die zusätzlichen Gebühren, die teilnehmende Unternehmen an die Deutsche Post entrichten, werden dazu verwendet, internationale Klimaschutzprojekte zu unterstützen.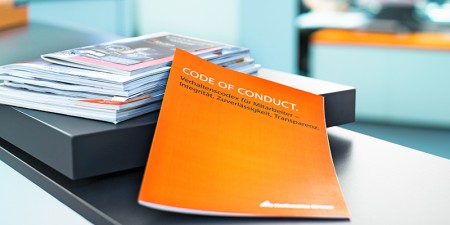 Code of Conduct
Wir wollen höchsten Ansprüchen genügen. Auch menschlich. Da sollte ein ethisch einwandfreies, gesetzeskonformes Verhalten sämtlicher Hoffmann-Mitarbeiter eine Selbstverständlichkeit sein. Um sie bei der Einhaltung dieser Anforderungen zu unterstützen, haben wir den Code of Conduct erstellt. In ihm werden die maßgeblichen rechtlichen Vorschriften erläutert. Klar geregelt wird das Verhalten gegenüber Wettbewerbern, Kunden und Lieferanten – zum Beispiel in Hinblick auf das Verbot von Preisabsprachen sowie die Gewährung und Annahme von Vorteilen. Dieser Verhaltenskodex ist für alle Mitarbeiter bindend. Wir stellen ihn unseren verbundenen Unternehmen zur Verfügung und bitten sie, ähnliche Regeln einzuführen, damit die Erfüllung der Grundsätze unternehmensübergreifend gewährleistet wird.