Safety knives from Martor - ideal safe cutting solutions
Now part of our range: high-quality safety knives / cutting tools by MARTOR.
For 40 years MARTOR has been the leading producer of safety knives; as far back as 1976 the first TÜV-certified safety knife was brought to the market.
Fully automatic blade retraction, concealed blades or safe blade change: with the GS-certified products MARTOR is setting standards for cutting safety at work.
MARTOR also focus on the subject of "user friendliness" combined with a modern design and even better ergonomics.
MARTOR safety knives for active accident prevention: Protect your staff - and your expenditure budget. Every lost work day you avoid saves you up to 500 euros.
Overview safety knives
MARTOR SECUMAX: Maximum safety due to concealed blade (VLK)
The blade is not open but concealed, the cutting edge is shielded from person and goods. This gives you a maximum degree of safety from cut injuries and damage to goods.
MARTOR SECUPRO: Fully automatic blade retraction (VK)
The intelligent cutting tool:
As soon as the blade leaves the material being cut, it withdraws automatically into the handle – without you having to do anything. That's what we call "a very high degree of safety".
MARTOR SECUNORM: Automatic blade retraction (AK)
Thumbs up – for a high degree of safety. As soon as you start cutting, remove your thumb from the slider. Thus the blade can disappear back into the handle as soon as the cut has been made.
Award winning: The Secumax 350
The multi-award winning safety knife MARTOR SECUMAX 350 (article No. 842010 ) offers a maximum degree of comfort and safety when cutting.
2in1 blade head for cutting and splitting
Comfortable soft-grip and light ribbing
Spare blade in storage
Lanyard hole for attachment and transport
Pointed nose for piercing into the cutting material
Concealed blade for maximum protection of staff and goods
Ergonomically shaped, for right- and left-handed use
Cutting types
Remove film
Normally pallets are covered in wrapping/shrink-wrapping. Ideal for removing this are cutting tools with a concealed blade, that protect you and your goods at the same time. MARTOR film cutters usually have a pointed nose, which can be used to pierce into the material to be cut. Alternatively, you can use your free hand to gather the film at the top, thus creating a starting point for cutting.
Window cut
If you want to keep the transport box for storage, a window cut is recommended. For this you do not open the box at the top, but cut a large opening into the side. You can easily and comfortably remove your goods through this "window".
Cutting plastic strapping
Plastic strapping is used to reinforce boxes containing especially heavy loads. You will most probably have to deal with strapping of varying strength and quality. It is recommended to cut more robust strapping at an angle of 45°.
Martor Blade Matrix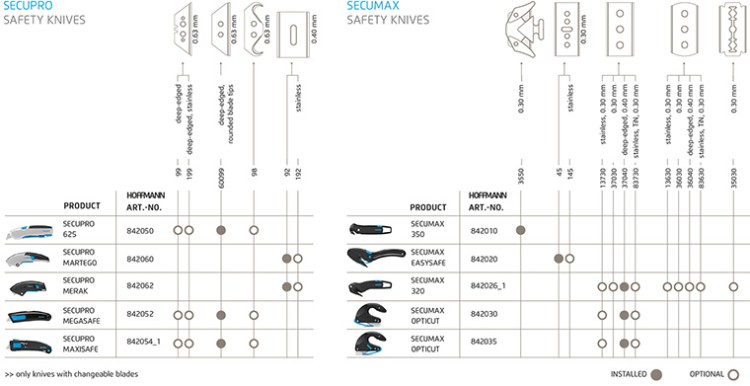 Products
All MARTOR products, safety knives and spare blades, can be found in our eShop: