Stainless steel – it's all in the mix
If you're a master craftsman in the industry and you're out to face down deterioration and corrosion, there's only one way to go: stainless steel. What professionals often like to call chromium-nickel-steel alloy combines all of the constituents' benefits and is even more resistant to acids and lyes as an added bonus.
When using stainless steel in industrial contexts, it helps to know its exact composition and what the respective constituents actually do.
Chromium: makes the steel stainless
Nickel: improves acid resistance
Molybdenum: reinforces the beneficial effect of chromium
Vanadium: refines the alloy and improves processing

Below, you will learn which of its properties make stainless steel so long-lived and how cutting and grinding can improve your components' service life. Did you know that there's a lot of things to look out for when storing stainless steel? Find out what and how to avoid mistakes. We'll also fill you in on what makes stainless steel so appealing, for example in the container trade or in medicine production, and what's absolutely imperative in stainless steel machining if you want to present the most iconic of metals at its most beautiful.
Sheen is only superficial
Examples of final products made of stainless steel include knife blades and other cutlery, scissors and pots and pans (chromium), sinks and interior cladding in washing machines and dishwashers (chromium-nickel-steel).
Stainless steel is the industrial superstar thanks to its diverse mix of properties, its longevity, its almost complete immunity to rust, good processing capability and of course its pleasing visual appearance. Its specific material properties are also praised across all sectors:

tremendous hardness
high elasticity
varying thermal conductivity depending on composition
varying electrical conductivity depending on alloy
varying coating options depending on alloy
As an industry insider, you're probably aware that not every steel that's stainless will never rust. It's a common misconception that stainless steel is always impervious to corrosion. It actually comes down to what's in the alloy and how it touches the steel surface. If, for example, the alloy includes ferrous metals susceptible to rust, even stainless steel may rust. Rust films and even deeper corrosion may then occur.
Don't judge by looks
We all know that looks aren't everything. But some industries still consider a brushed stainless steel surface a sign of purity. When stainless steel gets used in plants producing medicine or foodstuffs, for example, end customers usually insist on there being no rust. Known under the term hygienic design, plants for use in the life sciences field need to be easy to clean frequently, including using high-pressure jets or steam. If you're involved in producing components for these industries, then you're familiar with the stringent system design and hygiene requirements manufacturers need to fulfil. The material has to be non-rusting and acid resistant, and you should ideally be able to temper it, too.
Speaking of hardness: this aspect is key, for example when you're producing cutting tools for tool machines.
Plant designers frequently need to have pumps or turbine components and valves built – components that are also in high demand in the automotive sector. Another thing that's almost always made of stainless steel: all kinds of fittings for almost every branch of industry.
But stainless steel's properties make it a winner when it comes to thinking big, too. The chemical industry and container trade capitalise on stainless steel's strength and corrosion-resistance just as much to make all sort of container from the metal. Special-purpose producers take it another step further to manufacture stainless steel pressure tanks – free of rust and acid resistant, and even heat resistant up to 1,000°C.
---
Stainless steel – pitfalls when machining
When machining stainless steel, you need to prepare your workshop or industrial workstation properly.
To set the ground for best results in terms of grade and quality, put together a permanent workstation specifically for machining stainless steel workpieces only. If you can't do that, thoroughly clean the work area before starting work on your stainless steel.
Did you know that even merely storing stainless steel close to 'other' steels can lead to major contamination?
We recommend: Consider your warehouse capacities carefully.
Would you have thought that stainless steel is more difficult to weld than other kinds of steel? In fact, it's the material's purity that sometimes leads to ungainly weld seams – because higher phosphorous and sulphur content actually makes welding easier!
We recommend: Keep premium forming gas and stainless steel electrodes on hand. Welding requires skill in TIG, MIG, MAG and arc welding.
Examine whether you might be able to prepare the surface by pickling. Pickling cleans iron residue off the stainless steel surface, making welding easier.
When welding stainless steel, always make sure your protective equipment (PPE) is complete and in proper working order.
Welding stainless steel produces slag. Your PPE will keep you safe when removing it.

---
Part, don't burn – the proper way to cut stainless steel
Just like with storing, machining quality is affected by material structure and, we'll say it once more, by how clean your work area is. What you should definitely never do is switch between machining stainless steel and regular steel workpieces in your auto-change tool.
Your clamping device should also protect the stainless steel and reduce workpiece heating. Perhaps you've already come across tarnishing hues yourself – an effect produced by the material heating up too much. Potential problem number two, and no less unsightly, is warping and burning off chromium content, which results in greater susceptibility to corrosion.
Shape up and look sharp
Once you've cut your stainless steel, the next step is usually grinding it down to adjust the workpiece's shape. Here are some useful tips to help you maintain the stainless steel's positive properties and to make your work easier:
When grinding down, lean towards coarser grit – this will improve chip evacuation and keep the temperature a bit lower.
Using grinding media with abrasive, cooling extra coating might be an option, depending on the respective job.
Use grinding media without iron, sulphur or chloride fillers.
For extra cooling, use an underlay. Aluminium, for example, improves heat dissipation.
Favour lower contact pressure and ideally perform oscillating movements.
Choose a grinding machine with enough drive power.
Remember to protect yourself as well as your workpiece from dangerous spark spray by always using your personal protective equipment.
Keep all of this in mind and not only will your grinding results look sharp, but you'll making your stainless steel workpiece the best it can be – perfect grinding substantially improves corrosion resistance.
Caution: Never use grinding tools for stainless steel that you've already used for machining other metals. Doing so will ruin your perfect grinding results.
Preparing and finishing welding seams
Welding stainless steel requires at least as much attention to detail as grinding it.
The welding methods below are tried and tested:

MIG
TIG
MMA stainless steel (Manual Metal Arc – arc welding with flux-coated electrodes)

The method of choice depends on your desired weld seam grade. If you're looking for a cheaper option, with quality a secondary consideration, MMA is an option. If what you need is high-precision seams on thinner-walled components, TIG might be the way to go.
Whatever you choose, always remember to use fully functional personal protective equipment, including a welder's mask with air inlets – welding stainless steel is a health hazard because it releases cadmium and chromium vapours.
Once you're satisfied with your welding, the next step is to remove excess material.
Classic angle grinders do well here, for example. We recommend:
When using your grinding machine, pay close attention to the angle to avoid undesired effects like gouging or undercutting.
Your disc should be labelled as iron-free and suitable for stainless steel.
Because polishing later is a really tough job, you'll ideally be starting off with no more than medium grit sizes. This will help prevent scratching and avoid time-consuming polishing later.
The best way to get the classic stainless steel look
After grinding it down, you'll want to give your stainless steel its final finish using polish or by burnishing it. What grade finish you want depends on where the workpiece or component will be used and what for. If you're looking for a bright sheen, polishing is your friend, whereas burnishing is what you need for a matte finish or brushed look.
If you're machining stainless steel primarily for supplying the foodstuffs or pharmaceuticals industry, applying a high-grade finish by either polishing or burnishing are standard procedure for surfaces, fittings and components. This has two reasons: on the one hand, it's the industries' way to comply with the stringent regulations – hygienic design is the magic word – on the other, it automatically entails improved corrosion resistance. A few useful hints while on the topic:
Make your components excellent by grinding them properly.
Polish off larger scratches.
Make sure you're using the right speed setting for your polishing tools.
Polish up to a mirror sheen and recheck your choice of grinding media if you're going to apply a final high-sheen polishing pass.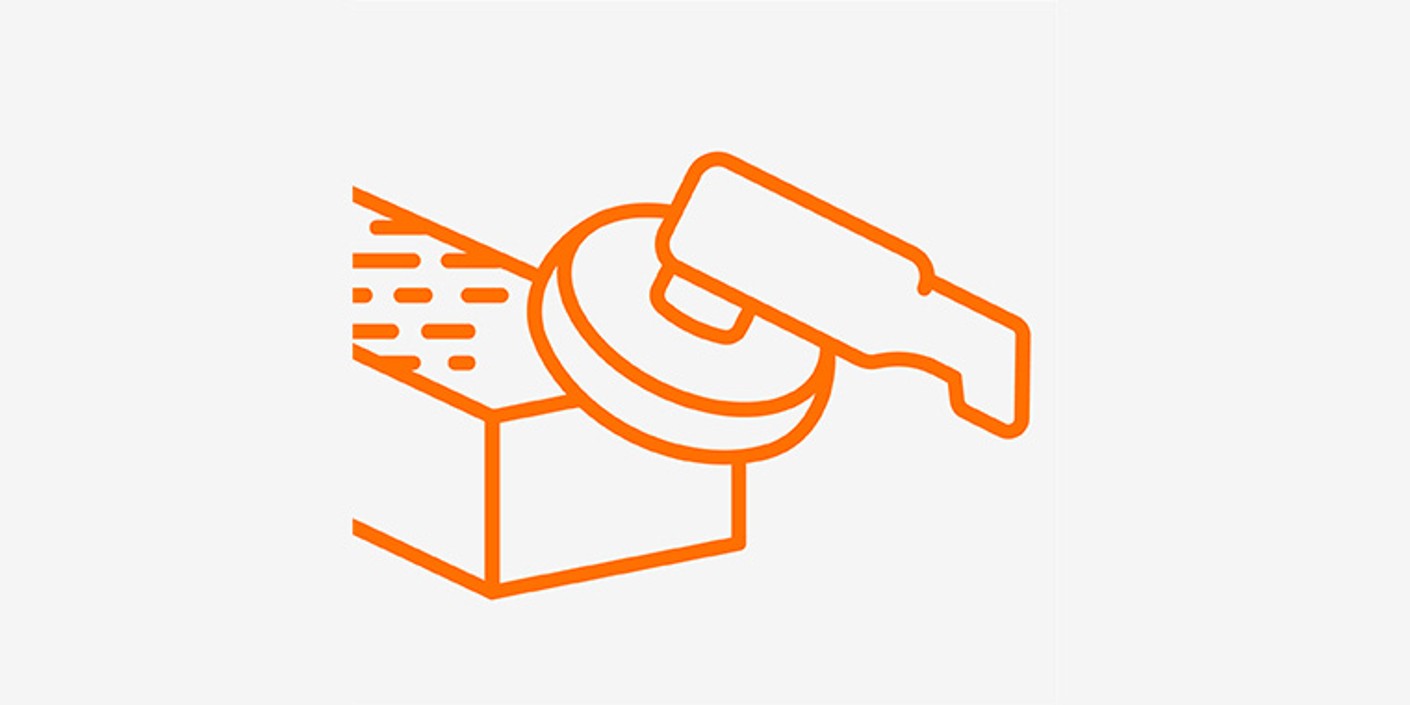 When water and soap won't cut it – grinding media and co.
What tool and what grinding media you'll choose obviously depends on both the degree of soiling and on the size of the surface for cleaning. For manual cleaning, nylon sanding pads work well, for example. You can remove most crusts and dirt this way, especially if you add soap and water.
For permanently installed components, cleaning agents based on soap and water are a good choice. Industries that see a lot of greasy residue accumulating benefit from simple and effective surface degreasing.
Another option would be one-percent ammonium solutions – get rid of fingerprints and light soiling in a flash. Various chemicals-based liquids are available to apply pre-emptively as protection against renewed soiling.
Please avoid using aggressive cleaning agents, as these can lead to scoring.
For stainless steel objects your customers will be handling all the time, like handles in canteen kitchens for example, hydrocarbon solutions like methylated spirit, isopropyl alcohol or acetone are great for removing ugly staining from stainless steel.
FAQ – useful to know about machining stainless steel
I'm not sure if I've chosen the right disc. How can I tell if a disc is suitable for machining stainless steel?

Are there other things I need to look out for when choosing a disc for machining stainless steel, for example specifically for cutting?

I've heard that stainless steel tends to get quite hot. What do you recommend?

I've heard that grinding media can cause corrosion, is that true?

How can I remove a WIG weld seam quickly and without heat?

How do I get a finer finish on stainless steel with an angle grinder?

You'd like to know about complex stainless steel machining and find out about your best machining options?

Our experts will be delighted to advise you!

To the consultation