GARANT HiPer Drill
High performance interchangeable head drill for maximum performance.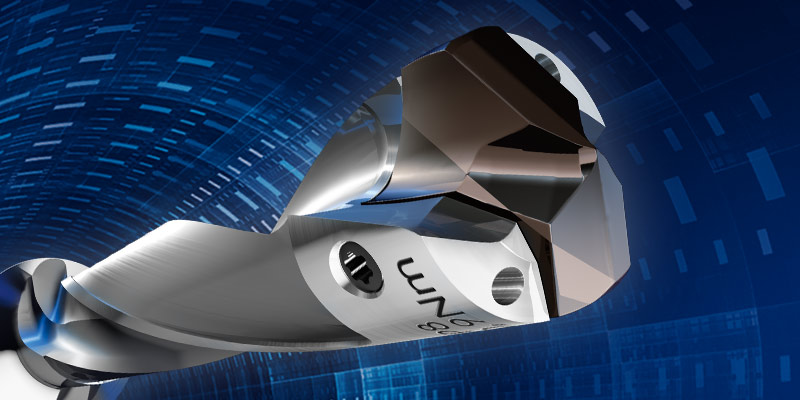 The cutting edges of drilling tools get blunter with every drilling operation. As soon as the quality of the drilling operation is negatively affected, an elaborate regrinding or exchanging of the drill becomes necessary. Not so for the GARANT HiPer drill interchangeable head drill of the Hoffmann Group. In the case of this high performance tool for creating medium-sized holes only the inserts / interchangeable heads have to be changed, the base body remains the same.
Description of picture on the right:
Flange for optimum attachment
Increased stability during drilling
Lettering
Stating the maximum boring depth, spare parts and tightening torques
Comprehensive range
Diameter: 13 mm - 32 mm (13 mm - 20 mm in 0.1 mm increments and all relevant core hole and reaming diameters)
Length ratios: 1.5xD, 3.0xD, 5.0xD, 8.0xD, 12.0xD
Unimpeded chipflow
In the additive manufacturing process tools can, to a great extent, be freely designed.
Optimized geometries / secure clamping / Vee insert seating
Geometries were optimized for machining steel, as well as for stainless steel and a variety of other materials. The interchangeable head is firmly positioned in its seat in the toolholder. This clamping mechanism protects the toolholder. Unlike other clamped interchangeable head drills, the toolholder is not stretched, making more clamping cycles possible. Due to the Vee insert seating the cutter insert is exactly positioned in the toolholder. This assures optimum concentricity and ensures centred drilling for your application.
Optimized transitions and flutes
For improved chipflow.
Toolholder of high-quality material
For high stability and thus high concentricity. Optimum resistance to corrosion, for long life of the toolholder.
Plain shank with clamping surface
For high stability and thus secure clamping with optimum power transmission. Shank tolerance = h6
Performance: Very long life with high cutting speed and feed rate.
Accuracy: Bore tolerance IT9.
Precision: Unsurpassed roundness and straightness of the bore in its class. Flexibility: the same holder can be used for many different head Ø, with a maximum difference in diameter of 1mm.
Efficient: Fast and simple change of worn cutter inserts due to the interchangeable head system. Renewed measuring or setup is not necessary.
Stability: Exact positioning is ensured by the Vee insert seating.
This video summarizes the advantages of our GARANT HiPer Drill interchangeable head drill.
Products and further information
You can find all GARANT HiPer drill products here.
Please see our brochure for a summary of the innovation and the drill's technical details.