GARANT HiPer-Drill
High performance interchangeable head drill for maximum performance.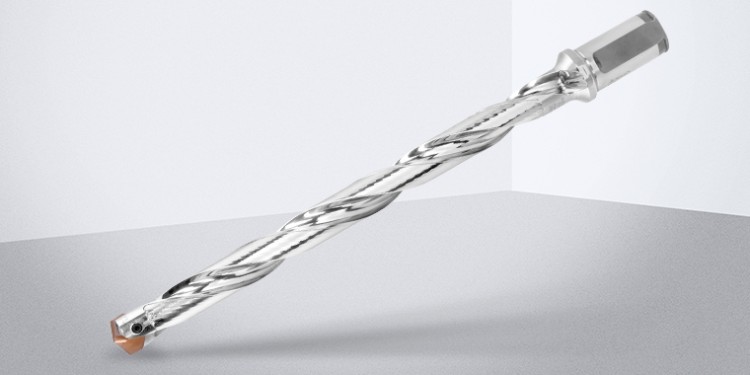 Highest performance with the interchangeable head drill HiPer drill by GARANT.
The cutting edges of drilling tools get blunter with every drilling operation. As soon as the quality of the drilling operation is negatively affected, an elaborate regrinding or exchanging of the drill becomes necessary. Not so for the GARANT HiPer drill interchangeable head drill of the Hoffmann Group. In the case of this high performance tool for creating medium-sized holes only the inserts / interchangeable heads have to be changed, the base body remains the same.
Advantages at a glance:
Extreme precision.
Comprehensive range.
Maximum performance.
Several cutting insert diameters can be used on one base body.
High performance from the smallest to the largest diameter:
1.Flange for optimum attachment
Increased stability during drilling
2. Lettering
Stating the maximum boring depth, spare parts and tightening torques
3. Comprehensive range
Diameter: 9 mm - 36 mm (13 mm - 20 mm in 0.1 mm increments and all relevant core hole and reaming diameters)
Length ratios: 1.5xD, 3.0xD, 5.0xD, 8.0xD, 12.0xD
4. Unimpeded chipflow
Better machinability, for example in construction steel and stainless steel.
5. Optimized transitions and flutes
For improved chipflow
6. Optimized geometries / secure clamping / Vee insert seating
Geometries were optimized for machining steel, as well as for stainless steel and a variety of other materials. The interchangeable head is firmly positioned in its seat in the toolholder. This clamping mechanism protects the toolholder. Unlike other clamped interchangeable head drills, the toolholder is not stretched, making more clamping cycles possible. Due to the Vee insert seating the cutter insert is exactly positioned in the toolholder. This assures optimum concentricity and ensures centred drilling for your application.
7. Toolholder of high-quality material
For high stability and thus high concentricity. Optimum resistance to corrosion, for long life of the toolholder.
8. Plain shank with clamping surface
For high stability and thus secure clamping with optimum power transmission. Shank tolerance = h6
Maximum performance & maximum precision
By using different cutting inserts the GARANT HiPer drill drilling system can be used in a variety of materials like e.g. AIMg3, St50-2, Hardox 500, Superduplex, Inconel 718 or GG and thus be optimally matched to your applications. The GARANT HiPer drill provides a degree of precision similar to a solid carbide drill, but is markedly more precise than a HSS drill or indexable drill.
GARANT HiPer drill - The first series tool produced by additive manufacturing in the diameter range 9 – 12.99 mm.
Progress by use of state-of-the-art technology:
Using additive manufacturing, tools can - to a large extent - be designed freely. Additive manufacturing refers to a process by which digital 3D design data is used to build up a component in layers by depositing material, which is then fused by a strong laser beam. With the GARANT HiPer drill, additive manufactuing is finding its way into series production.
Better overall structure:
The cooling channels are put towards the outer edge of the drill and can be adapted to the helix angle according to the ⌀. This assures a more stable toolholder core and optimised flutes for improved chip clearance.
Cooling system:
The cooling channels in the ⌀ range 9 to 12.99 mm can be manufactured with triangular channels for optimum flow of coolant. Twice the amount of coolant can be delivered due to the larger cross section and the improved flow dynamics.
Optimum torsional properties:
Due to their uniform microstructure, drills manufactured by the additive process have improved tensile strength and a significantly improved yield point, thus giving optimised torsional properties.
High productivity:
All this enables a marked increase in stability, cutting data, chip removal, and tool life – thus increasing your productivity.
Product video
GARANT HiPer Drill video
The GARANT HiPer drill interchangeable head drill is a high-performance tool with an extensive range of different drill diameters and drill lengths. The drill stands out due to its easy handling, highest process reliability and maximum flexibility. It is suitable for various materials and provides high cost efficiency due to reduced material and shipping costs.
Products and further information
You can find all GARANT HiPer drill products here in our online shop.
To GARANT HiPer-Drill