GARANT Electronic torque / rotational angle wrench HCT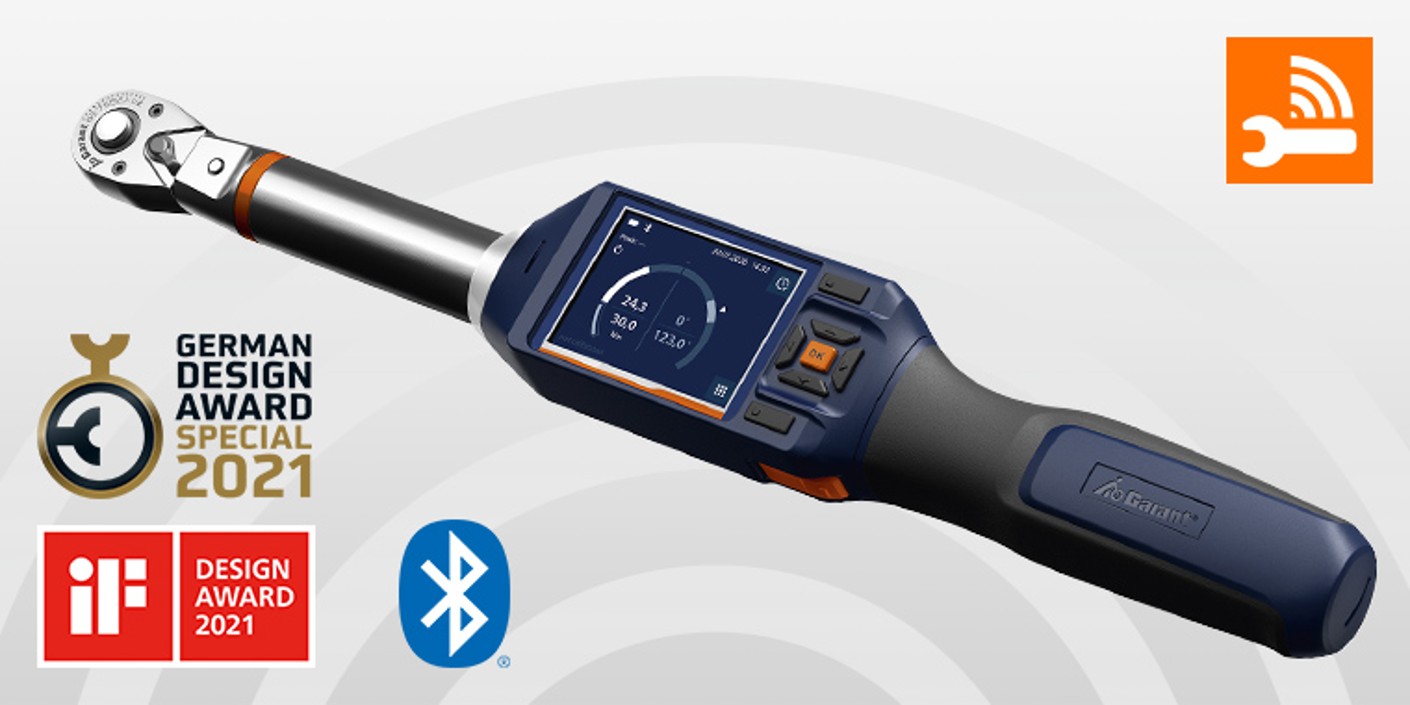 The wrench for very special torques
The Bluetooth® enabled GARANT Electronic torque wrench / rotational angle wrench HCT not only lies well in the hand – the advantages clearly outweigh the disadvantages: it offers numerous options for saving, digitalisation and documentation of your screw tightening profiles. The time-consuming manual transfer of measurement data is no longer necessary!
HCT stands for Hoffmann Group Connected Tools and is the platform for digitising your measurement processes. HCT uses state-of-the-art Bluetooth®-enabled tools and innovative apps to automatically transfer measurement data to smartphones, tablets and computers, meaning you can work faster, more effectively, and more accurately than before.
These innovative features support your work
Data output via Bluetooth® or via USB-C interface
Display: 2.8 inch TFT display with double scale, dimmable, battery and memory display
Various modes can be programmed (via App or directly at the tool): Displaying torque, triggering torque, triggering rotational angle (also with rotational angle monitoring); screw tightening profiles and many more
Display and values: Peak and Track, rotational angle measurement, rotational angle and torque visible at the same time etc.
Ergononomic handle
Easy input of reference dimensions: No laborious calculations with formulae
Resistant: to oils, grease, fuel, brake fluid, Skydrol; protection class IP40
Find further product details in the eShop
Unleash the full potential of the GARANT Electronic torque wrench with the HCT apps
The HCT mobile app and the HCT Windows app allow you to add a host of additional features to your Bluetooth®-enabled tool. This means that processes are integrated into your production flow even more efficiently and your company's standard of quality greatly improves.
The apps offer you many benefits:
Clarity: One app for multiple tool groups.
Ease of use: Tools can be operated and adjusted via the app.
Save time: Automatically record the measurement values.
Organisation: List and manage your tools via the app in the future.
Download the clear and time-saving HCT app now, free-of-charge:
The electronic GARANT torque wrench offers you numerous advantages
Easy documentation of the measured values in three different ways: Bluetooth app, Bluetooth HID, USB-C cable
Parallel Bluetooth connection to app and PC, to ensure easy setting of the torque wrench also when connected to the PC
–> never loose measurement values again, no manual transmission, avoid sources of error
–> easy integration into existing processes via the HID transmission
–> time saving due to transmission of all saved measurement data via the app.
Easy to integrate into existing production processes due to the possibility of creating 10 workflows with up to 10 screw tightening profiles each. A total of 100 screw tightening profiles can be created
–> Save time and increase quality. Simple processing of the saved screw tightening profiles.
Measuring ranges are reliably achieved due to visual (large display and LED ring), acoustic and haptic signals
–> never again miss the correct tightening torque due to large display, vibration, acoustic signal, LED rings
Even without an unobstructed view of the display, the status of the screw tightening operation is detected – by means of a 360° visible LED ring or a mirrored screen in the app.
Ergonomic 2-component injection moulding prevents the torque wrench from slipping in the hand, even after prolonged use.
Increased accuracy through angular measurement.
A lithium-ion battery eliminates the need for cumbersome battery changes. The battery can be charged directly in the torque wrench or externally.
FAQ – GARANT Electronic torque wrench HCT
1. Connection to app: Pairing request. What must be selected?

2. Keyboard input in the app (iOS) no longer works. What is the reason for this?

3. Can measured value data be transmitted via HID directly to the mobile device to which the torque wrench is simultaneously connected via the app?

4. Can I change the name of the torque wrench outside the app?

5. When opening the .csv file in Excel, the values are not assigned to the cells. What could be the reason for this?

6. When transmitting HID data, the HID data is not displayed correctly. What could be the reason for this?

Downloads – GARANT Electronic torque wrench HCT

Stay up-to-date and download the latest firmware here.

Advantage s when using the torque analyser HCT in conjunction with a torque wrench HCT:

Simultaneous display of the measurement values of the torque wrench HCT and the torque analyser HCT on the display of the torque analyser.
Display and automatic evaluation of the peak values achieved by the torque wrench HCT and the torque analyser HCT.
HCT torque wrenches blocked due to overload can be released again using the torque analyser.

More about the Electronic torque analyser HCT

Do you have any questions? Please contact us!

Our competent expert advisers will be happy to give you individual advice on any milling query and will help you to find the right tool for your particular application. We are happy to offer you personal advice, by phone or e-mail.

Futher interesting topics