It's not a trick it's an XTRIC
Centre clamping has never been so easy
Save valuable time with the GARANT XTRIC
The new GARANT XTRIC is a multi-function vice and is particularly easy to use. The unique clamping concept with quick-change system for the jaws saves you a lot of time when clamping blank parts and finished parts. The versatile attachment options offer great scope for flexible handling. All this combined with very high precision and quality – Made in Germany.

A BRIEF OVERVIEW OF THE IMPORTANT FACTS
DISCOVER THE ADVANTAGES
1. XPRESS
Jaw change within 8 seconds due to click mechanism.
Quick and easy: First insert the top jaw into the dovetail and press it down with the spring plates. This is how easy it is to change the clamping range or exchange the jaws. A clamping distance between 0-144 mm can be achieved.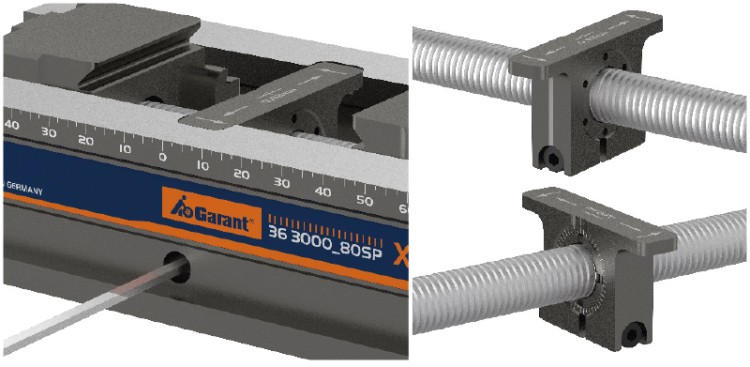 2. XCELLENT CENTRIC
Adjustment of the clamping centre in the μ range
When clamping a workpiece using multiple XTRIC vices, the centre itself can be adjusted to suit the production requirements with a few movements of the hand. Adjustment 5/10 mm each side (1 mm in total) by means of scale graduations on the spindle bearing. After the screw has been released, the centre can be adjusted using a pin wrench. After this the screw is retightened.
3. XACTLY PRECISE
Better clamping accuracy compared to the competition (3)
For clamping, the jaw is pushed along the specially shaped dovetail in the guide track, thus producing a pull-down effect. This creates minimal jaw lift-off whilst achieving very high clamping accuracy.
(1) Version with pivoting jaw
(2) Version with fixed jaw
(3) Competition (grey)
4. XTRA STRONG
Linear clamping process up to 25 kN clamping force
The special GARANT tooth form of the gripper jaws makes pre-indentation at maximum clamping force unnecessary. Ideal for clamping blank parts, because the 25kN can be applied directly to the component. Unlike for other manufacturers, the stated clamping force is not "made to look better" using the arithmetical sum.
5. XTREMELY VARIABLE
Various set-up options
The Xtric can be used with clamping claws, via direct adaption on the "LANG" system, or with adapters on all zero-point clamping systems.

6. XTREMELY FLEXIBLE
Pivoting function
The pivoting jaw automatically adapts to the face of the workpiece, and can also be used without problems for finished parts. Suitable for every clamping situation!
CUSTOMER OPINION
"The accuracy and the flexible quick-change system for the jaws to vary the clamping range in seconds impressed us."
Philipp Ramerseder, Managing Director
APM Maschinenbau GmbH, Perlesreut/Prombach

"The GARANT XTRIC offers an unbeatable price-performance ratio which we have never previously encountered. New features such as the changing of jaws have absolutely convinced us."
Christian Knödlseder, Managing Director
Kühberger Metalltechnik GmbH, Waldkirchen

XTRIC IN AUTOMATED USE
The Xtric is also suitable for automation projects.
The video shows it in use with an articulated robot at company idee-werk GmbH.