Your personal workstation configurator – plan your industrial modular workstation in just a few clicks
Individual workstation design in 3D
You know the situation: configuring a workstation requires a large amount of manual effort and you need a catalogue or other documents to put it together. And yet it is not always immediately obvious what is actually technically feasible, how adding new components changes the overall price and how the finished product will look. Planning is therefore often complex and imprecise.
With our Hoffmann Group workstation configurator, you can easily create your modular workstation in 3D online – precisely according to your needs and for free. Error-free design of your workstation on your desktop or tablet is therefore ensured.
Through 3D visualisation, you can see your configured workstation in real time and can immediately see whether all of the components you want are present. You will be shown suitable accessories directly and can add them with a click. For a flexible workstation design in the workshop, production or for assembly workstations – with a worktable, packing table, workbench as well as perforated panels, drawers, work lamps and much more.
You can save your configurations, share them and modify them at any time in the project management tool. When creating a new project, copy your workstation plan and then modify it. This allows you to plan your individual workstation flexibly in 3D at any time.

Benefits of the individual workstation configurator to you
Quick and easy online configuration
Intuitive operation with a 3D live view
Error-free configuration for complete process reliability
Web-based and free of charge, without software on tablet and PC (Edge or Chrome browsers; it is unfortunately not possible to use the configurator with Internet Explorer)
Easy to use: plan your workstation exactly how you want it
Individual and tailor-made
On the first overview page, choose between workstation tables that have electric or manual height adjustment. The worktable and workbench models are the basis for your next steps when configuring an assembly workstation, for example.
Intuitive and versatile
You can now place items such as swivel arms, perforated panels, drawers, work lamps, cabinets, shelves and additional accessories. You can easily select available components from the toolbar – and create a functional and ergonomic workstation.
Transparent and clear
The graphical 3D visualisation enables you to recognise immediately whether the future workstation meets all of your requirements. You can modify box rails, perforated panels or mountings at any time in the configuration.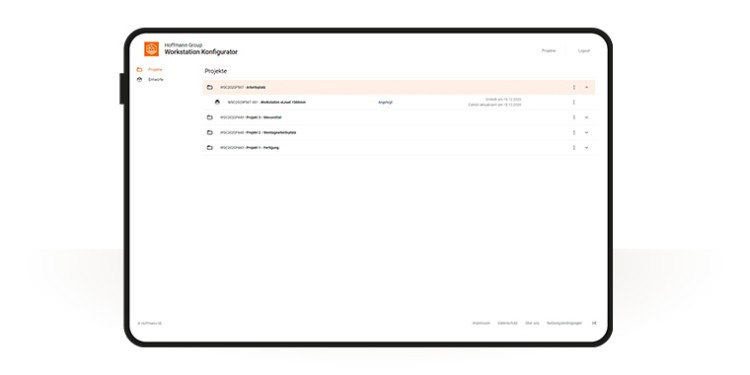 Convenient management
You can save your workstation plan as a project, call it up again, change it, and delete it. When creating a new project, copy your configuration and then simply modify it.
Videos: Workstation design with Hoffmann Group workstation configurator
You can see in the videos how easy, quick and customised planning and configuring your future modular workstation is in our 3D workstation configurator.
Test it now: both the configurator and the versatile
GARANT Workstation are sure to impress you!
Do you have any questions? Would you like to arrange a consultation?
The Hoffmann Group provides you with everything from a single source:
We support you when configuring and optimising your workstation.
We will also provide you with suitable inlays and rigid foam inlays or foam inlays as well as ergonomic workstations and storage solutions.
Get in touch now
Or contact us directly via our
order hotline using the extension 6930.
Additional useful information