GARANT Master Mute - vibration damping made easy
GARANT Master Mute reduces vibration in a new way.
Polymer discs made from materials with frequency-dependent stiffness form the heart of this new technology.
Vibration problems are reliably solved, noise levels, wear of the machine and tool are significantly minimised and the component quality clearly optimised.
Problem with conventional vibration damping: Traditional, vibration-damping tool systems are limited to a frequency range defined ex works in which vibrations can be neutralised. Only time-consuming adjustment can influence the stiffness of the tooland thus match it to different frequency ranges.
Due to the use of innovative materials with frequency-dependent stiffness, the vibration mechanism of the GARANT Master Mute is able to adjust the frequency of the damping body tothe frequency of the tool and thus the damping behaviour ofthe boring bar, without manual adjustment in real time. This is the key to stable, vibration-free turning operations.
Features GARANT Master Mute
1. Interface to GL/QC/DM interchangeable cutting heads
2. Polymer discs adapt to the machining conditions with frequency-dependent stiffness
3. Tungsten carbide damping body - resiliently mounted
4. Polymer discs s.o.
5. Shank diameter 16 to 60 mm (New! Shank Ø 16 mm for components with Dmin from 20 mm)
Advantages GARANT Master Mute:
Increases the productivity when boring through deep holes, since cutting parameters do not have to be sub-optimised.
Can be used immediately, there is no loss of time due to "Tuning".
Maintenance-free due to use of non-wearing components.
Compatible with the existing range of interchangeable heads.
Impressive component quality at long overhang lengths and various machining conditions
Benchmark-Test: GARANT Master Mute compared against competitors' toolsin a variety of clamping situations
Both tools with
Shank Ø: 20 mm
Shaft length: 200 mm
SDUC interchangeable cutting head
Uses the same inserts
Cutting data: Vc: 60m /min, f/rev: 0.11 mm, ap: 0.5 mm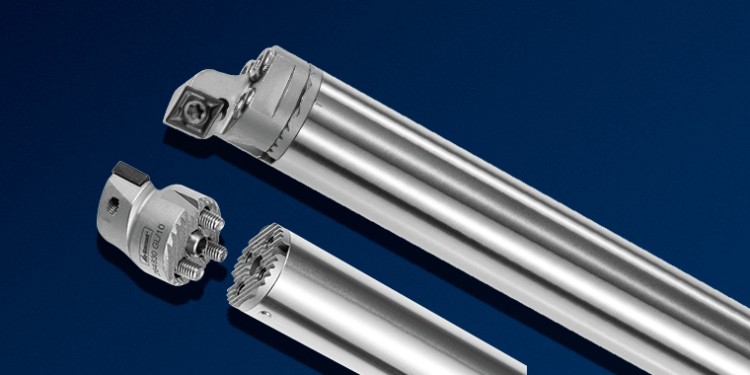 Interchangeable cutting heads for GARANT Master Mute
Due to their modular design GARANT Master Mute tools can be combined with a variety of interchangeable cutting heads. Three different systems are available depending on the shank diameter of the boring bar:
GL interchangeable heads
for GARANT Master Mute boring bar shanks with 16 mm diamet
QC interchangeable heads
for GARANT Master Mute boring bar shanks with 20, 25 or 32 mm diameter
DM interchangeable heads
for GARANT Master Mute boring bar shanks with 40, 50 or 60 mm diameter
Products and further information
Here you will find all suitable interchangeable heads, boring bar shanks and boring bar stabilisers from GARANT.