All product information:
Special price valid up to Aug 31, 2021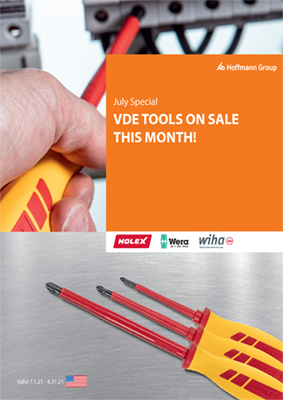 This is an article from our latest
VDE.
Follow the link to see all offers from this advertisement.
Click here
This article is also availabe in a set
Description
Version:
Kraftform handle with 154 mm long insulated interchangeable blades (including control cabinet keys) fully insulated up to 1000 V according to DIN EN 60900 / VDE 0682-201 and a voltage tester (up to 250 V to VDE 0680/6) in a sturdy textile folder with hook and loop fasteners and belt loop.
Content:
Slot-head blades: 0.4×2.5; 0.6×3.5; 0.8×4.0; 1.0×5.5
Blades for Phillips: PH1 and PH2
Pozidriv bits: PZ1 and PZ2
Phillips / slot-head (combination profile): PH/ S1 and PH/ S2 (combination profile)
Pozidriv / slot-head (combination profile): PZ/ S1 and PZ/ S2 (combination profile)
Square: 8 mm and 1/4 inch (89 mm long)
3-square: 9 mm (89 mm long)
Two-wing: (89 mm long)
Voltage tester No. 665030: Size 3
Kraftform handle for interchangeable blades No. 667411: Size 1
| | |
| --- | --- |
| Number of pieces | 18 |
| Standard | DIN EN 60900 / VDE 0682-201 |
| Drive profile | Slot-head screwdriver; Combination profile screwdriver Phillips / slot-head; Combination profile screwdriver Pozidriv / slot-head; Screwdriver for Phillips; Pozidriv screwdriver; Square sockets; Triangular sockets; Two-wing key |
| Type of product | Screwdriver |