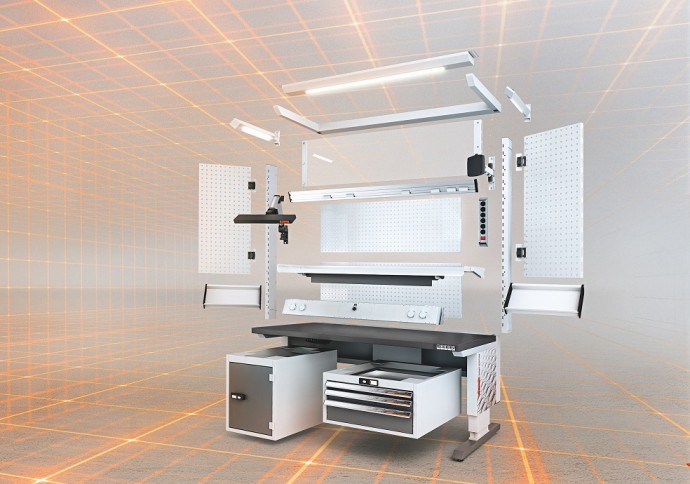 Configure your own workstations
15 Mar 2021
Hoffmann Group expands its online planning service for workstations and storage to include an online configurator for GARANT GridLine Workstations. The new service lets customers design their workstations entirely by themselves and get a quote for them with only a few clicks of the mouse. The configurator is available right now at https://configurator.dsp.hoffmann-group.com.
The intuitive user interface makes working with the online configurator child's play: User input produces 3D models in real time. The users can rotate and zoom in and out of the models to view them in detail from all around. By registering in the eShop, they can save their configurations and come back to continue working on them later.
This is how the online configurator works in practice: To start off, users click the basic GARANT GridLine Workstation type they desire. They can choose from the three options mLevel for manual and eLevel for electric workstation height adjustment and eLevel+ with worktop height adjustment. The next step then lets users add the required accessories and separately adjust each of the items' colours. There are ten standard colours to choose from. Accessories include, for example, support columns, support arms, equipment tracks and drawers or drawer casings for the base cabinet. To finalise, customers can review their design in detail in 3D and call up the matching list of parts. If they're happy, the contact form offers the option to get a quote.
This way, the online configurator not only opens up new means of product planning, but also provides a new avenue for interacting with Hoffmann Group's workstation consultants. In the end, planning precision improves and the users save time. True to the motto "easier and faster to the desired product".