GARANT GridLine: Clearly structured work stations and storage systems
GARANT GridLine stands for "E3 - Ergonomics, Efficiency, Emotion" in equipping modern workshops on a clearly planned basis and a common grid system. This creates a multitude of possibilities for combining and extending the system.
Aesthetics and functionality are guaranteed, even if changes are made to the workshop equipment in the future.
Even in the middle ages, when writers were compiling scripts by hand, they drew a little grid on the page so that each page of the book was uniformly divided. This preliminary work was intended above all to make the writer's work easier.

This idea is also the basis for the definition of a uniform grid for the new GARANT GridLine workstations and storage range. As well as simplifying the planning of the entire workshop thanks to uniform external dimensions, the advantage to the user can be found above all on the inside.
Just like LEGO® bricks, the drawers of a GARANT GridLine workbench can be subdivided using various drawer division materials, which can be freely combined with each other. For a start there a 6 different sizes and versions of small parts storage bins; then there are slotted partitions and dividers, and finally complete eForm inlays. These individual rigid foam inlays make work easier as they allow the user to see at a glance if a set of tools is complete and to pick out the required tool.

Thanks to the uniform grid these division materials suit not only the specific workbench but also all products in the GARANT GridLine series. This enables flexible exchange and addition of units, quite apart from the reliability of planning and the cost savings. With GARANT GridLine the user is buying a uniform system and need not buy different drawer division materials for workbench A compared to those for workbench B or roller cabinet C.
Roller cabinet - ToolCar
Not all roller cabinets are the same. The ToolCar of the new GARANT GridLine series is the best proof of this. Be it end cupboards or drawers, wheels or power supply – this mobile talent for organisation incorporates the expertise of continuous further development.

End cupboard: Central locking of the sheet metal door for security of your tools. Optional power supply with integral socket for connection of chargers or electric power tools.
Drawers: Full extension drawers for optimum access to the contents, optionally with self-closing and damping. Load capacity 40 kg, sufficient for even the heaviest articles. Tamper-proof anti-tilt device ensures that when one drawer is open no other drawers can be opened. Central locking in the handle for ease of opening. Maximum flexibility of drawer division for optimum use of space. Aluminium handle with PVC labelling strips, easy to replace, easy to rewrite the legend.
Ergonomic push handle: Sturdy sheet metal design coated with 2-component Haptoprene for great comfort under extreme working conditions.
Wheels: Reliable, smooth running and stable support. Proven quality – internally sturdy and impact-resistant, externally resilient. For a very wide range of requirements and floors.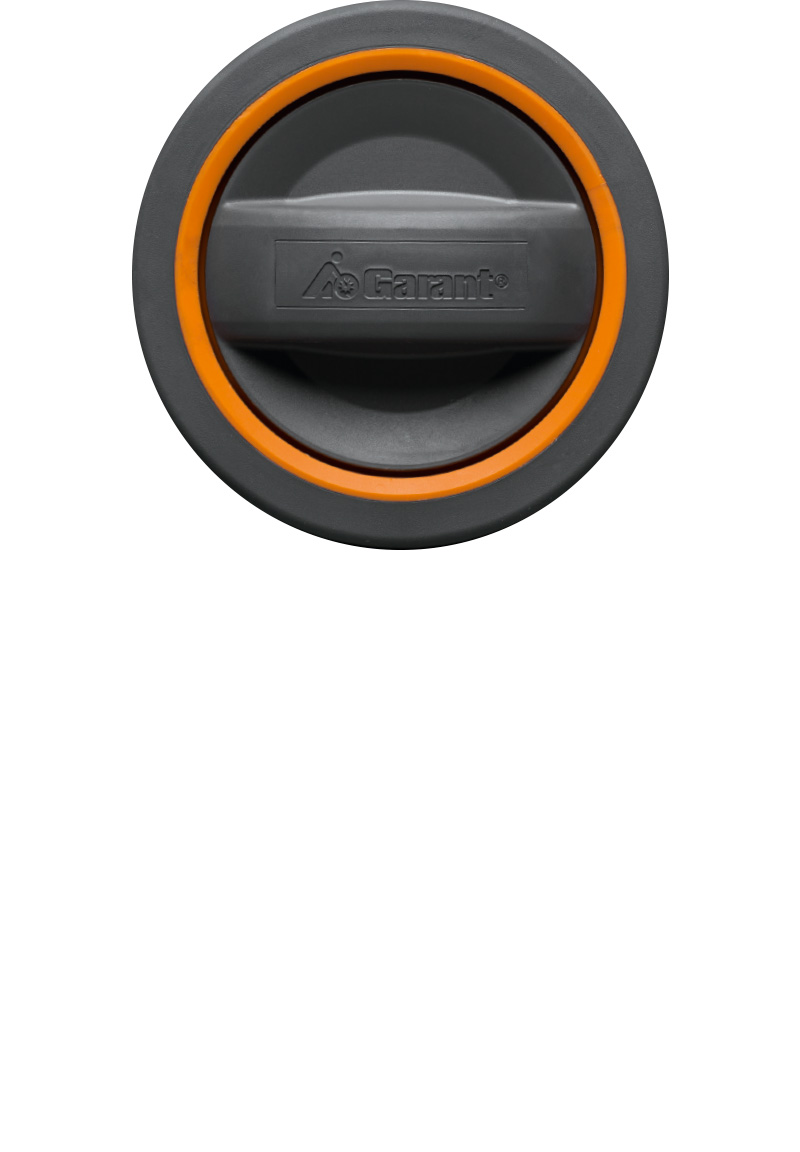 Without doubt the wheel is one of the best ideas that we humans have had throughout our history. Particularly since there are no precedents for it in nature. Of necessity therefore the wheels of the new GARANT GridLine ToolCar are the result of many years of development and close cooperation with customers and product designers.

Nowadays mobility has high significance, and its importance is increasing, particularly in the field of workstations and storage. That's because mobile workstations permit quick individual modifications to workflows. In addition, a mobile workstation requires less planning within a production workshop, because no explicit location need be assigned to it – which certainly gives rise to the great success of the roller cabinet.
The mobility of the new GARANT GridLine ToolCar stands or falls by its castors. Therefore the new wheels incorporate good technical characteristics in respect of their bearings, smooth running characteristics and load capacity. The new wheel tyres are optimally suited to a wide variety of applications and different ground conditions, so as to provide the smoothest possible running combined with low-noise characteristics. In addition the castors are now larger so as to confer greater stability on the chassis.
The wheel is indispensable to our everyday life, especially on the automobile. As an eye-catcher, for instance in the tuning scene, it is of central importance. So too the new ToolCar from GARANT can immediately be recognised by its wheels.
GridLine electrically self-propelled workbench

Electrically self-propelled workbench
The highlight of the new GARANT GridLine series, and also an absolute first on the market, is the electrically self-propelled workbench. Discover for yourself the many advantages of easy and mobile working.
Handles for drive control: Pleasant ergonomic handle position. Stepless speed control (from 0 – 4 km/h). Readiness display by LED. Forwards and reverse operation.
Chassis: Wheel diameter 125 mm, ideal even for bumpy floors. 2 castors with brakes for the wheels and the castor head. Fibre shields prevent the castors jamming. Optimum smooth running characteristics thanks to high-quality ball bearings.
Drive: Power supply from built-in battery. Easy transport of heavy items. Solid housing of galvanised sheet metal with 125 mm drive wheel. Ground clearance of 30 mm permits movement across door thresholds and other irregularities. Protection class IPX4 (sprayed water from all sides).

Workbench
You might think that the workbench hasn't been with us more than a few hundred years. You'd be quite wrong. Even the ancient Romans and Greeks knew how to appreciate this very special work table. In fact its origins probably reach back to the ancient Egyptians during the epoch when the Pharaohs ruled the kingdom on the Nile.

Drawers: Load capacity 75 kg. 100 % full extension for optimum access to the entire area of the drawer. New type of drawer concept for optimum equipment with modular arrangement systems. Pale power-coated colours allow high contrast (to find stored items quickly).
Handles: High-quality aluminium handles with PVC labelling strips, easy to replace, easy to rewrite the legend.
Multi-function rear panel for optional fitting of: Media channel (no tangled cables). Multifix rail for GARANT open storage bins and GARANT Easyfix hooks and holders. Adapter to take support column ancillaries. Unperforated rear panel and rear panel with square holes, compatible with the GARANT Easyfix mounting system and others.
Media connections: Pre-formed cut-outs for the supply of single or multiple workbenches with electric power, compressed air, data cables, etc.
Solid worktop (illustration shows a solid bamboo worktop): A choice of various worktop materials is available.
Paint finish: Body RAL 7035 light grey, drawers and doors RAL 7016 anthracite grey powder-coated.
Manual height adjustment: In 25 mm steps from 850 mm to 1,000 mm.
Optional side cladding: Unperforated or with square holes for mounting GARANT Easyfix hooks and holders.
Torsion resistant body of steel section – sheet metal construction: Smooth surfaces without snagging edges, with rounded corners ensure very high safety and perfect cleanliness.
Clilck here for the complete GridLine workbench range
GridLine electrically height-adjustable workbench

Electrically height-adjustable workbench
The workbench already incorporates a lot of new expertise; the "big brother" shown here has many electrical features which support the employee in his daily work. This is true above all for the built-in battery, which provides power for up to 8 hours of cordless operation.

Electric height adjustment: Simple operation by pushbuttons (860 mm – 1,050 mm). Load capacity of the workbench 400 kg
Manual chassis: Wheel diameter 125 mm, ideal even for bumpy floors. 2 castors with brakes for the wheels and the castor head. Fibre shields prevent the castors jamming. Optimum smooth running characteristics thanks to high-quality ball bearings.
Battery power supply: 230 V / 50 Hz – 1,500 W. 12 V / 100 Ah lithium ion batteries. Capacity up to 8 hours, depending on the demands made.
Extensions with comprehensive accessories: LED lighting unit, hook-on work trays, perforated back panels, GARANT Easyfix hooks and holders, and much more...