GARANT GridLine height-adjustable workbench: Ergonomic and flexible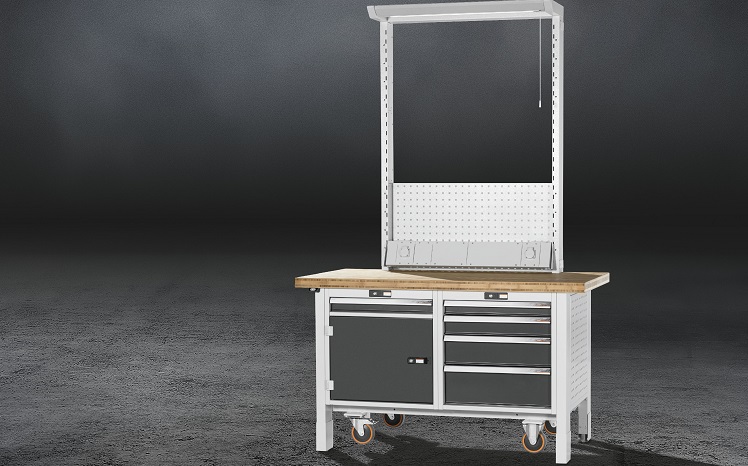 Workbench with mobile power supply adjusts working height at the push of a button and can be easily rolled away for a change of location
A workbench that adapts to components and workers – this is what the Hoffmann Group is presenting at LogiMAT 2018 in Hall 5, Stand D47.
The new electrically height adjustable workbench from the GARANT GridLine series allows employees to set the worktop exactly to their body size and the components to be machined – completely independent of the power grid. An onboard lithium-ion battery provides additional power for electric devices and chargers. For occasional change of location, the workbench also has a mobile base and electrically retractable feet. After the feet have been retracted, the bench can easily be rolled away.

With the new electrically height adjustable GARANT GridLine workbench, the working height can be adjusted with a top-down button at a height of 860 to 1050 millimetres – with a load capacity of up to 400 kilograms. The workbench thus makes a valuable contribution to preventing premature fatigue of employees and back problems. With its powerful lithium-ion battery, it also provides power for up to eight hours for electric devices, chargers and light bulbs. For additional ergonomics, cleanliness and order, matching assemblies are available for the workbench from the proven GARANT product range: Perforated panels, Easyfix hooks and holders, monitor stands and an LED lighting unit.

To ensure that the workbench can be moved for occasional changes of location, it was also equipped with a mobile base and electrically retractable feet. Locks on the castors make it possible to lock in place before the feet are extended again. With its large 125-millimetre diameter wheels, it can easily travel over uneven ground and door sills. A special fibre shield prevents the wheels from seizing up.

With this special functionality, the GARANT GridLine height adjustable workbench is suitable for all employees who frequently work on components of different sizes or who occasionally need to change locations and for multi-shift operation.